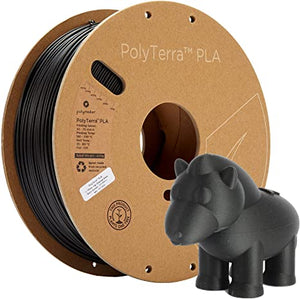 Extrusion Temperature: 190-230

℃

Bed Temperature: 25 - 60℃

Diameter: 1.75mm  ± 0.03 mm

Print Speed: 30 - 70mm/s

Filament Weight: 1KG
Characteristics:
 -PolyTerra PLA is a PLA filament 1.75 featuring an incredible matte surface finish that helps hide the layers of your print.
-PolyTerra PLA is carefully winded to avoid any tangling issues, dried, and vacuum-sealed in a resealable ziplock bag with desiccant. Please make sure to NEVER let go of the tip of the filament as it may create nodes. Holes on the side of the spool can be used to prevent this issue.
-PolyTerra PLA features a ductility similar to PLA+ filament 1.75mm (less brittle).
-PolyTerra PLA 3D printer filament is designed to support itself and break away easily, saving your time and hassle during support removal.
-PolyTerra PLA comes in fully recycled cardboard packaging and has been liked by hundreds of thousands of Polymaker customers.